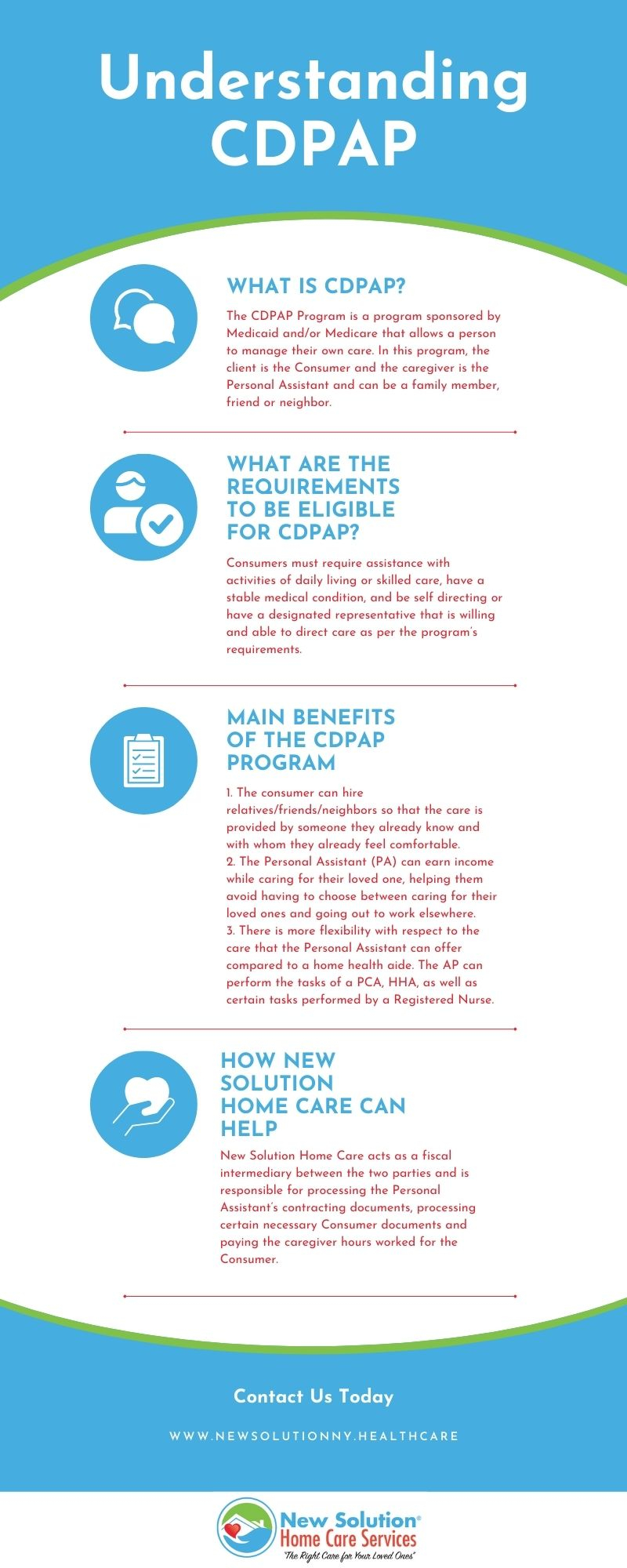 What is the CDPAP Program?
New Solution Home Care For You The Personal Consumer Assistant
The CDPAP Program is a program sponsored by Medicaid and/or Medicare that allows a person to manage their own care. In this program, the client is the Consumer and the caregiver is the Personal Assistant and can be a family member, friend or neighbor.
Key aspect of the CDPAP program
The Consumer / DR is responsible for selecting their own caregiver.
The caregiver can be a friend, neighbor, relative or acquaintance of the patient and his/her family.
The consumer manages the caregiver and ensures that he or she is properly oriented on how to follow the CDPAP program rules. They are responsible for selecting, training, and (if necessary) terminating caregiver employment.
For the purposes of this program, the Consumer is the Personal Assistant's employer and may suspend their services when deemed necessary.
New Solution Home Care acts as a fiscal intermediary between the two parties and is responsible for processing the Personal Assistant's contracting documents, processing certain necessary Consumer documents and paying the caregiver hours worked for the Consumer.
Main Benefits of the CDPAP Program
The consumer can hire relatives/friends/neighbors so that the care is provided by someone they already know and with whom they already feel comfortable.
The Personal Assistant (PA) can earn income while caring for their loved one, helping them avoid having to choose between caring for their loved ones and going out to work elsewhere.
There is more flexibility with respect to the care that the Personal Assistant can offer compared to a home health aide. The AP can perform the tasks of a PCA, HHA, as well as certain tasks performed by a Registered Nurse.
To register or for more information, please call from 9.00am to 5.00pm to 212.927.0505 or contact us online.